Sunday 04/16/2017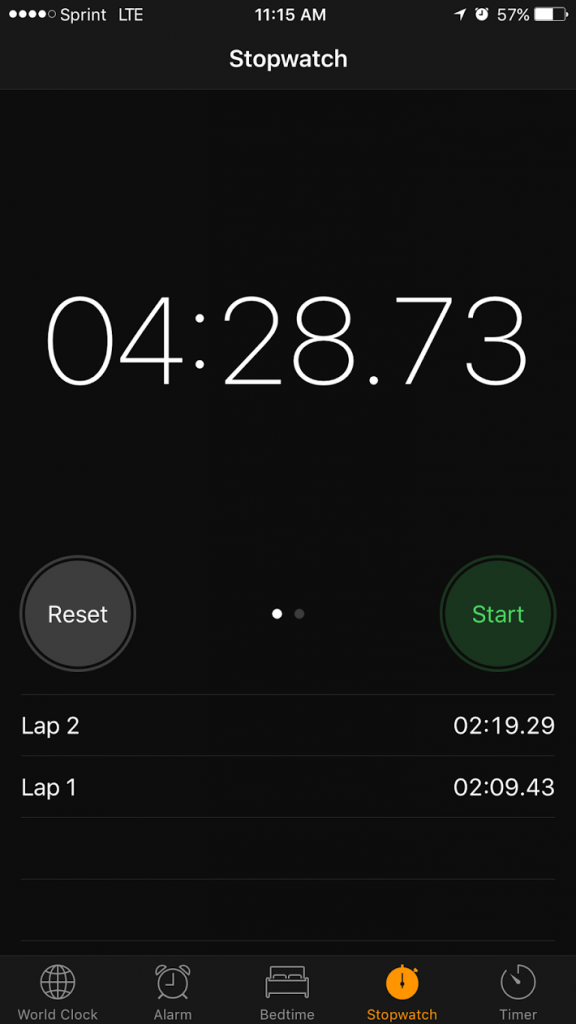 Time for Lap 1: 2:09.43  -3.5
Time for Lap 2: 2:19.29  -5.15
Total time: 4:28.72  -8.65
Notes: Sister came to the track with me today.  Jogged the first lap faster than normal and making overall progress on how easy it is for me to get through the 2 laps without "wanting to stop and walk".
Monday 04/17/2017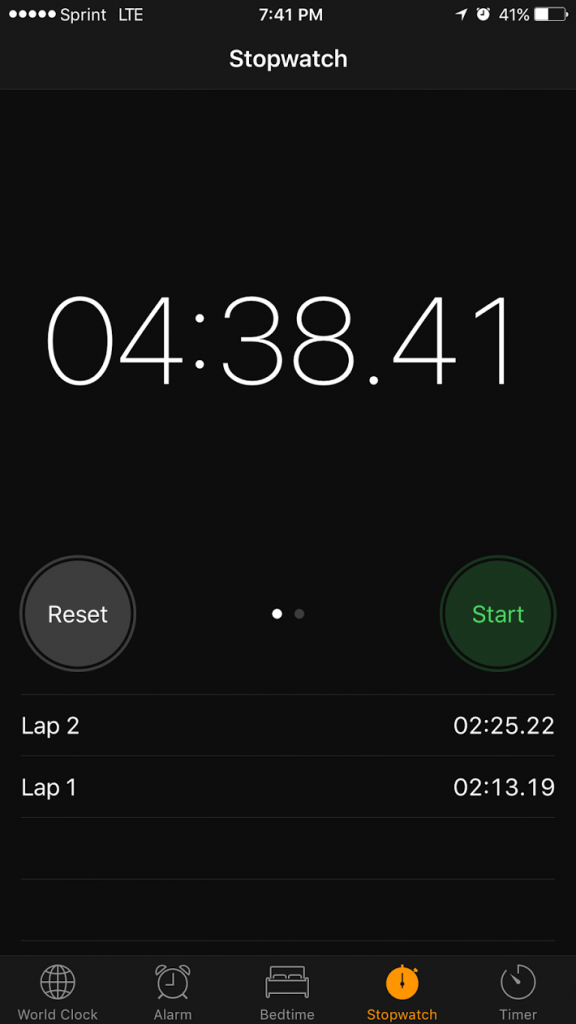 Time for Lap 1: 2:13.19 +3.76
Time for Lap 2: 2:25.22 +5.93
Total time: 4:38.41 +9.69
Notes: Today I really wasn't into it.  Woke up late so I didn't go in the morning and instead went in the evening.  Went almost a full 10 seconds slower, but I'm ok with that because I actually got out there even though I didn't want to.
Tuesday 04/18/2017
Time for Lap 1: 2:16.42  +3.23
Time for Lap 2: 2:22.98  -2.24
Total time: 2:39.40  +0.99
Notes: I wasn't feeling it today either and it had been raining hard the night before so everything was wet outside but decided to go anyway.  As soon as I got back home from running it started pouring hard!  So I ran at the perfect time.  Ran slower again today.
Wednesday 04/19/2017
Time for Lap 1: 2:02.96  -13.46
Time for Lap 2: 2:18.48  -4.50
Total time: 4:21.44  -17.96
Notes: Today I almost didn't make it again.   Went a little later in the afternoon (instead of the normal time in the morning) and I hadn't eaten anything yet so I assumed I'd go even slower than the day before.  This time I drank a Gatorade to at least get some sugar in me before I left (I don't like running with food in my stomach) and this time I was able to run almost 18 seconds faster than yesterday, and about 7 seconds faster than my previous fastest time to date.  Looking forward to getting this time down below 4 minutes in a few weeks time or sooner.
Thursday 04/20/2017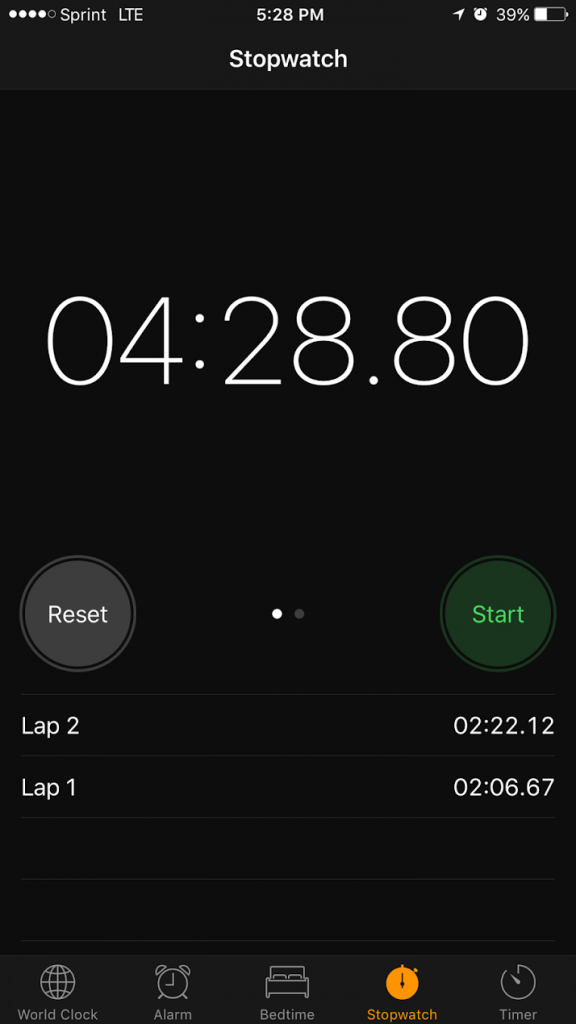 Time for Lap 1: 2:06.67  +3.71
Time for Lap 2: 2:22.12  +3.64
Total time: 4:28.79  +7.35
Notes: Ran later in the afternoon this time and wasn't able to beat yesterday's time but still feel good about it.
Friday 04/21/2017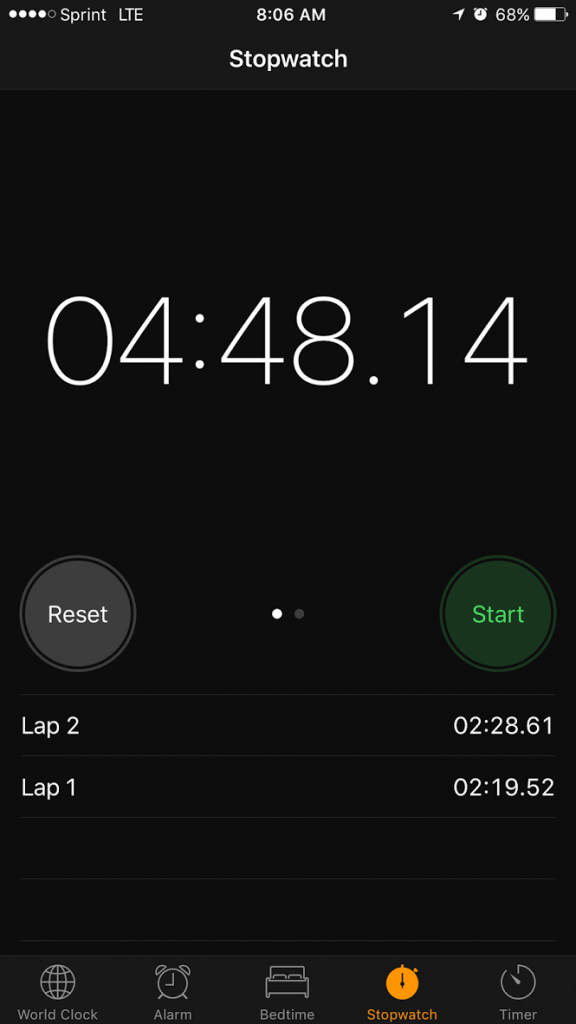 Time for Lap 1: 2:19.52  +12.85
Time for Lap 2: 2:28.61  +6.49
Total time: 4:48.13  +19.34
Notes:  Today I was significantly slower than the last few days.  I have a feeling this has to do with my poor nutrition the previous day and also since it was a bit earlier in the morning and I hadn't stretched, my right knee was a bit stiff which made me even slower.  Serves as a reminder that I will need to stretch more and improve my nutrition.
Saturday 04/22/2017
Notes: Today I didn't make it out to the track because we went out of town and I didn't plan for running earlier or later.  We left the house at 7am and came back at almost midnight.  For next time I will plan ahead so that I run before I leave.
End of Week Progress
Avg Time for Lap 1: 2:11.365  -8.283
Avg Time for Lap 2: 2:22.783  -2.057
Avg Total Time: 4:34.138  -13.726
Notes: This week was all over the place.  A few days I was fast, others I was really slow.  A lot of it probably had to do with how I ate certain days and how healthy some of the food was.  Looking forward to seeing what next week brings!